KAWAMURA Group HOME
>
CSR Activities
> Human resource development

Policy for human resource development
We offer every opportunity for human resource development such as "position respective training", "Newly-appointed training" or "freshmen training" to contribute to our society with their professional skills. Also we support our employees to get "Domestic Schooling Support System for Training Institutes".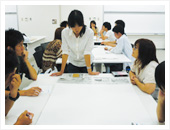 KJK activities
"KJK" means Kawamura Jam session with Knowledge. We continue these activities to improve our business quality and customer satisfaction through raising personal skills or improving work environment.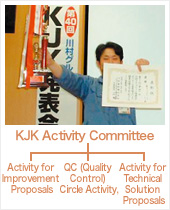 Diversity of employment
We employ various employees even when someone has any disability. We also improve our work environment with support systems to accept various work style when someone needs nursing, birth or child care.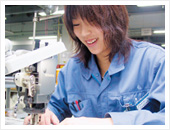 More stable employment
We offer the position for those who enthusiastic non-regular employees to permanent full-time position by job posting or assessment every year.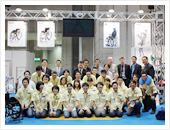 Ensuring security for staff member
We establish "Industrial Safety Committee". That provides great effects to set up fine work environment to improve productivity with keeping our employees in safety and healthy, such as prevention of industrial accident, effort for minimize of working hours, or improvement for indicated matter by patrolling the work area.
Dealing with health care
Every year we hold a medical examination for all employees. We also work on health care management not only for our employee's body but also his mind for example, regular health check for early detection and prevention of stress.